Quantum Services has completed more than 2 million inventory audits for leading convenience stores across the country. As the largest inventory audit service firm solely focused on the c-store market, we know how to solve our clients' greatest inventory challenges. We save our clients time and money through accurate, tailored reporting and actionable insights that reduce, and control shrink. 
Tailored Services for Each Client 
Our teams perform financial, hybrid, and item-level scan inventory services for convenience stores across the country. Our auditor's tailor services to each client to maintain accurate inventory data so they can reduce and control loss. We have advanced reporting and proven processes that help ensure accuracy. 
To see a sample inventory audit report click here.  
Financial Audits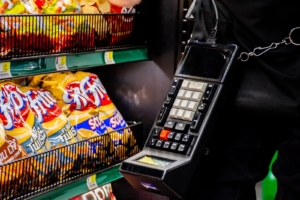 Calculate the total retail value of all products available for sale

 

Broken down by department or category as well as geographic location within the store

 
Hybrid Audits
Provide more options and combine the benefits of scan audits at a lower cost

 

There are 3 types: 

Financial audit with price book accuracy (FAPA)

 allows pricing verification via scan; 

Financial audit with item level features (FIL)

 offers pricing integrity without item level detail, and 

Combination audit (COMBO)

 combines a scan and financial audit.

 
Item Level Scan Audits
Scan the barcode (SKU) for each product and enter the quantity. For ILSA audits to be reconciled, we compare the count for each item with the "on-hand" book figure

 
We Ensure Accuracy & Efficiency
Using our software and specialized audit technology, we deliver accurate data and the detail you need to make the best decisions. Our tailored programs provide custom reporting that makes sense and provides immediate feedback. The hardware we use to collect data ensures accurate, consistent counts across every store. Here are some other ways we ensure accuracy and efficiency: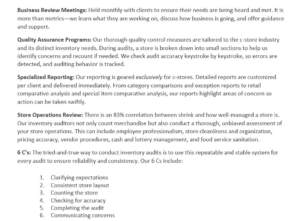 We know c-store managers act if they trust the accuracy of an audit, and action is what is needed to reduce loss and increase profits. Let us show you how we can reduce loss and save you time and money-Contact us today!