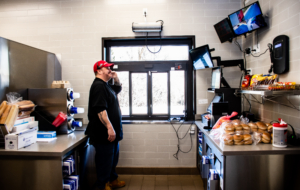 Since the onset of the pandemic, our country's labor force has taken a significant hit providing the catalyst of what became known as the Great Resignation, followed closely by the Demographic Drought. In 2023, we are still seeing a vast number of jobs but not enough workers to fill them, impacting all industries across the country.  
Why is this still happening?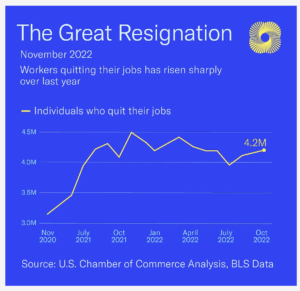 According to a survey conducted by the U.S. Chamber of Commerce, there are several components that are contributing to the labor shortage: 
Increased savings

. Without the ability to spend money during the lockdown, unemployment funds, and stimulus checks all contributed to a boost in individual savings accounts.

 

Change in career.

Many people also highlighted low pay in their current careers motivated them to acquire new skills and education to re-enter the workforce. 

 

Early Retirement.

The pandemic caused the 55+ demographic to enter early retirement and this has remained a trend as we enter 2023. 

 

Affordable and dependable childcare.

With a deficit of workers in the child-care industry, families are finding themselves in a vicious cycle. They cannot work without child care, and child care can't function without workers. This is believed to be part of the reason why women participating in the workforce is at the

lowest rate since the 1970s

. 

 

The bloom of new business.

Entrepreneurs across the country became motivated to move forward on their own business pursuits. 

 
Industry Impact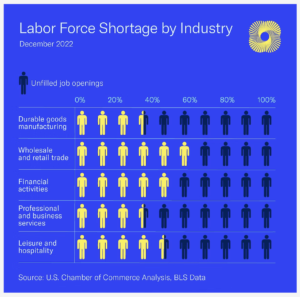 The wholesale and retail trade has seen the most significant deficit in labor as of December 2022. C-Stores fall into this category. These trades have had notable turnover and staffing issues because of the impaired labor market.  
How We Can Help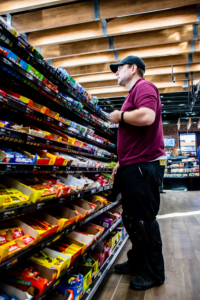 Quantum Services is the largest inventory audit service firm that is focused solely on the C-Store industry. We provide full-time auditing teams who understand how to solve your greatest inventory challenges. Our reporting provides accurate data and can be tailored to your specific needs. Quantum Services can alleviate the stress of hiring or training internal auditors.  
Hiring Quantum Services to handle your inventory auditing will free up time to allow team members to focus on other aspects of your C-Store. Visit our website and get in touch so we can share more about our people, processes, and services, and remove some of your unnecessary workforce stress.